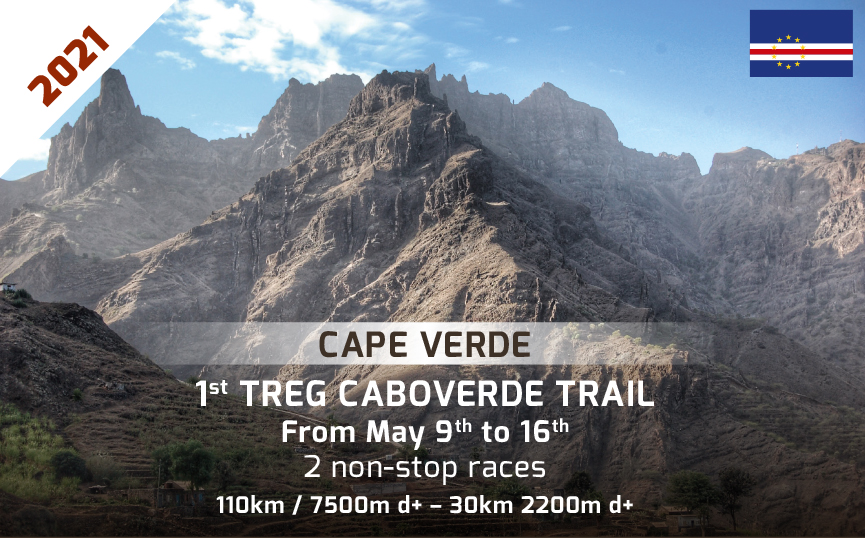 From 9th to 16th May 2021
RUN TO THE LAND OF CESARIA EVORIA!
1st edition of the
TREG CABO VERDE TRAIL
on the island of San Antao in Cape Verde
The TREG team presents here the 1st edition of a trailrunning event on the island of San Antao, a paradise for hikers.
You like the beautiful steep slopes like on the Grand Raid of Reunion Island, the TREG CABO VERDE TRAIL is made for you.
A complete crossing of the island in non stop, self sufficient food and self-navigation by GPS is waiting for you.
Whether you are a fast runner looking for a challenge, a leisure runner or
an enduring hiker, there will be a race for you.
After the effort, the atmosphere of Cape Verde, home of Cesaria Evora, a mixture of Africa and South America
will offer you a festive recovery. Supporters will also be taken care of throughout your stay.
ULTRA CABO VERDE TRAIL CABO VERDE TRAIL
120 KM 30 KM
Cape Verde is a journey at the crossroads of African, European and South American influences. The archipelago, divided between the Windward and Leeward Islands, is warm in Santo Antão, volcanic in Fogo, or festive in Mindelo.
Santo Antão is an island with an arid west coast but with green oriental landscapes. An island of green mountains, Santo Antão seduces hikers, attracted by its landscapes and its ribeiras, canyons hemmed in by terraced crops. Ribeira Grande, is a city on the UNESCO World Heritage List. It is also often the place to party!
With the logistical support of the local agency Nobaï.